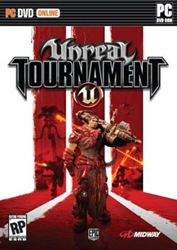 Wow! Nachdem ich gestern den ganzen Tag vom CoD4 Demo begeistert war hat mich heute das Unreal Tournament 3 Demo aus den Socken gehauen.
Den Download der Demo gibts übrigens auf 4Players.de und mit 750 mb hält sich die größe sehr stark im Rahmen. Verwunderlich wenn man bedenkt dass 2 Deathmatch Maps und eine Capture the Flag Maps verfügbar sind. Und auf besagten Maps darf man gleich mal DM, TDM, CTF und Vehicle-CTF spielen.
Und dann hab ich gespielt. :) Fazit: Gott spiele ich schlecht!
Im ersten Deathmatch bin ich direkt neben der Sniper Rifle gespawnt und habe gleich mal feststellen müssen dass ich absolut garnichts mehr treffe. Von ehemaligem CS und UT99 spieler keine Spur. Blutiger Anfänger triffts momentan wohl am allerbesten! Dann hab ich die Minigun und die Link Gun gefunden und schon ging die Post ab (nix zielen, einfach draufhalten!).
Auch der Vehicle Capture the Flag Modus macht extrem Bock, das herumfliegen/fahren mit den Fahrzeugen ist schnell gelernt und macht danach auch extrem viel Spaß, auch wenn man sich in den meisten Fahrzeugen wie gutes Kanonenfutter fühlt weil die Bots einfach sukzessiv besser waren als ich.
So.. ich muss mal mit meinem Gamestop Verkäufer sprechen ob er nicht ein Exemplar für mich reservieren will...
Nach dem Jump gibts Screenshots