I just booted my PC after 4 hours of drive through heavy rain and thunderstorms back from Vienna where I attended Barcamp. I have to say it was just fantastic! All Barcamps I attended before had a very diverse crowd, but usually lacking developers thus the social media enthusiasts usually dominated the attendees.
Barcamp Vienna was different, maybe it was the awesome location at Microsoft Austria headquarters or just the fact that it was in Vienna.. But I met more coders there in 2 days than in the last 2 yeas in Klagenfurt.
Coolest thing, I even met a Subsonic developer: Saintedlama! That was really awesome and funny when we met during breakfast randomly chatting about our stuff and I noted that I'll be presenting dotless when he said: "Wow that's you? I wanted to contact you for some time now about dotless. I'm working on Subsonic btw.. " (Imagine my jaw dropping right there.. ). He showed me some really cool demos of the simple repository they introduced in SubSonic 3 and it's uses with MVC.. and I have to tell you: wow.. Using a ORM was really never so easy..
Anyway, I really had a great time either chatting up really interesting people or doing my two presentations.
On Saturday I talked about dotless while on Sunday I talked about Git. Both talks went great in my opinion, but if anyone was there and has additional feedback on my presentations I'd be glad to hear them. I uploaded both slide decks to http://www.docs.com and you can find them here: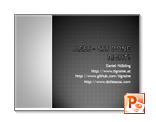 At any rate: Thanks to Max and Rolf for organizing this awesome event and to Microsoft for so generously hosting it!